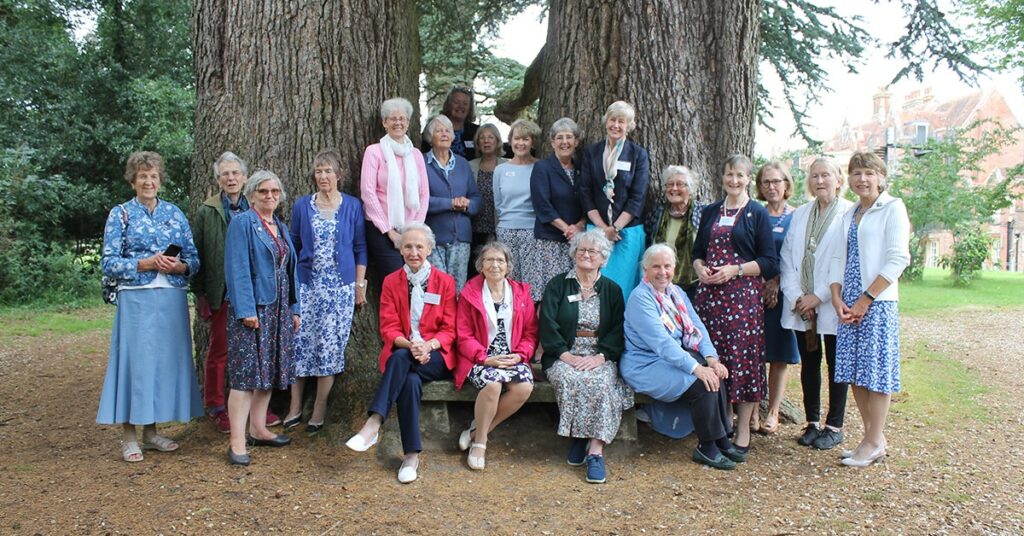 The Nightingale Fellowship AGM 2022
14 May 2022 at 2pm
The Nightingale Fellowship AGM was held for all members to access online.
The 94th commemoration service of the Nightingale Fellowship and was live streamed on Saturday 14th May 2022, being held in the St Thomas' Hospital Chapel with invited guests only, due to restricted numbers in the Chapel.
The Service was led by The Reverend Canon Mia Hilborn, Head of Spiritual Care, Guy's and St. Thomas' Hospital, with the Address being given by The Reverend Canon Patricia Hillas, Chaplain to the Speaker of the House of Commons.
A recording of the Service is available for you to view – please go to the Members log-in page on The Nightingale Fellowship website.
Summer Picnic
Nurses from the Nightingale Fellowship met at Embley on Friday 13th August  to commemorate the 111th anniversary of the death of Florence Nightingale. After laying flowers at Miss Nightingale's grave at St Margaret's Church in East Wellow the group spent time in the Manor House and grounds of Embley Park, the childhood home of Florence Nightingale. Afterwards they visited Romsey Abbey to view the new Nightingale Window and attend a short thanksgiving service acknowledging the work of nurses around the world and all those who have been affected by the Covid Pandemic.
NIGHTINGALE FELLOWSHIP HONOURS DAME EILEEN SILLS ON HER RETIREMENT
Dame Eileen Sills, recently retired Chief Nurse at Guys & St Thomas' NHS Foundation Trust (GSTT), was presented with a framed Nightingale Badge on Monday 24th August via a Zoom meeting with several of the Nightingale Fellowship Trustees and past Council members. This is a rare award which was given to thank Eileen for her 15 years of support to the Fellowship and championing excellence in nursing care during her time at GSTT.
Following the call, Eileen responded as follows:
'To everybody in the Nightingale Fellowship I can't thank you enough for the lovely surprise that I received. I was very touched that you had wanted to honour me in this way especially as I have always wanted to be a Nightingale! I have had a fabulous 15 years at the Trust, it hasn't always been easy but it has been a privilege to lead the profession and to have nursing held in such high esteem. The relationship we have developed with the Nightingale Fellowship has been precious and without your support the Nightingale Nurse Award and Academy would not have seen the light of day. I think between us we have managed to place nursing and midwifery in its rightful place. I didn't want to retire, but I have had to accept that my health and my family have to come first. I had been so looking forward to the 2020 celebrations, but I am sure we will have ample opportunity to celebrate in 2021, as we see the Nightingale Garden open in the summer of next year.
I want to end by saying thank you to you all. With very best wishes, keep safe and I look forward to catching up at the AGM in 2021'.
Eileen
25.08.20

Zoom photographs taken by the President
BROOKWOOD CEMETERY
The Nightingale project for a plot at Brookwood Cemetery is now complete and Hilary Brian has given the following update to share with you:
'The Cemetery is under new management and there is now a beautiful entrance building with a full-time receptionist.  There is now a legible (!) map which I am including here in case anyone would like to visit. Julie Davies and Joan Le Vasseur worked very hard over the years to establish the plot's boundary and who is buried there and Pauleene Hammett galvanised her gardening team to dignify the site.  Thank you to all those people and also to all of those of you who so kindly donated money to enable us to purchase the picket fencing and identify the plot with the board.  I have emailed the management to thank them as the plot is being very nicely maintained – there are no fallen branches, the bushes have been pruned where they are near to graves and, clearly, it is regularly strimmed.  I drove around the whole Cemetery and didn't see another plot bounded and identified as neatly as ours.  Our 'sisters' are truly resting in peace'.
Help for the Nurses in Lebanon
An Appeal is launched to help support the nurses in Lebanon who have been affected by the current crisis there.  Some of these nurses, who have had their homes destroyed and have been injured, are trying to return to work but cannot leave their damaged homes unsecured.  If you feel you would like to donate, you can do this via the following routes:
gofundme: https://gf.me/u/yuzmu6
International Council of Nurses: Geraldine Limborg at

[email protected]
The Order of Nurses in Lebanon and for more information: www.orderofnurses.org.lb
Artwork from the villages near Lea Hurst
The Fellowship is delighted to accept and honour the work undertaken by the villagers of Dethick, Lea, Lea Bridge and Holloway in Derbyshire, to celebrate their famous resident whose family home was Lea Hurst. A local retired nurse – Mary White – has brought the project together in record time and this was blessed and is displayed at St Thomas' Hospital, with cards and prints being sold in support of The Florence Nightingale Museum and Lea Village School.